In 1981, we decided to celebrated Haab's 47th year in business by serving those three items from the original menu – at their original prices. We shocked a lot of folks in Southeastern Michigan!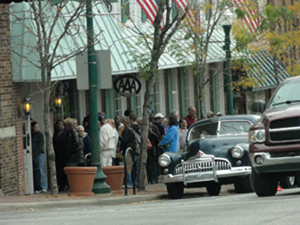 The popularity of this event far exceeded our expectations; and for 30 years, we continued the tradition on the third Monday in October. (We estimate we've fed over 60,000 people at 1934 prices.) Each year, the line would begin to form at 8 a.m. (or earlier) for our 11 a.m. opening; and on some years we'd still have 150 to 200 people in line at 9 o'clock.
Well . . . 30 years is a long time, and prices continue to go up. So in 2013, we decided to make a change. The response was overwhelming! The phone began ringing for reservations soon after sending our January newsletter, and it didn't stop until we celebrated on the third Monday in October.
From our standpoint, it was a total success! We were able to say "thank you" to the many people who have supported Haab's over the years, and our staff was excited to see so many familiar faces. Diners seemed to enjoy their meal, as well as the deduction of 34% (based on our founding date of 1934) from their bills.
As a result of the positive feedback we've received, we've decided to celebrate each anniversary in the same way.
We begin taking reservations (734-483-8200) on January 1 each year for seating from 11 a.m. till 8:30 p.m. on the third Monday of the following October. Seating goes fast – especially for the evening hours!