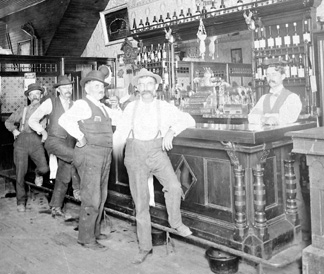 Chartered in 1825, Ypsilanti grew from several settlements that were established to take advantage of both the Huron River and existing Indian trails Huron River. The Chicago Military Road (built in 1835) developed from the Saulk Trail, which ran through several states. As stagecoach travel developed, saloons began springing up along the route. In addition to food and drink, they would provide (for a fee) a bed for the night as well
By the 1870s, James Fulton (1827-1908) had established a saloon on the current site of Haab's Restaurant. It provided fellowship—mainly to gentlemen. A dividing-wall separated the men's bar from the women's, and a portion of that wall still exists at the end of our bar.
Just as today, ownership in eating/drinking establishments changed fairly frequently. When Adam Shaner purchased the saloon from Fulton in 1894, he added tobacco to the offerings of a traditional saloon. He acquired the best tobacco leaves, and they were wrapped into cigars on the second floor. Apparently, this was Shaner's "hook" and attracted enough customers that he was able to maintain ownership till 1905.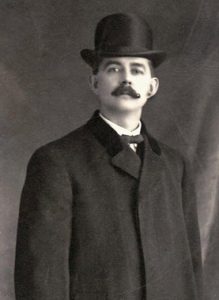 When Charles A. Smith purchased the business from Shaner in 1905, he renamed the saloon "Smitty's Saloon and Riverside Club." He completely remodeled the space, installing a tin ceiling and a modern bar manufactured by Brunswick-Balke-Collender of Grand Rapids. Both the tin ceiling and bar remain today. Smitty held onto the successful business until his death.
Then came Prohibition (1920-1933), shuttering Smitty's and other establishments serving "spirits." Soon after its repeal, though, brothers Oscar and Otto Haab had the foresight to open a saloon that reversed the traditional focus of a saloon. The Haab Brothers' Café was the first establishment in Washtenaw County where food was the primary draw for the customer. Beer and wine complemented the meal.
In the 1940s and 50s, automotive travel on the main Detroit-to-Chicago route exploded, bringing travelers directly past the café's front door. Travelers and local residents alike discovered Haab's, "where it's fun to eat." The brothers prided themselves on providing large portions of good food. As a result, their customer base continued to increase.
To accommodate more diners, the brothers expanded in 1963, adding two additional storefronts to the original saloon space. Together, these three spaces make up Haab's Restaurant today. The rooms were decorated in an antebellum motif, with heirlooms from the original Haab Family homestead in Lodi Township scattered throughout. The hand-hewn beams, although they provide no support, were added to enhance the early-American atmosphere. We're careful to preserve that traditional atmosphere today.